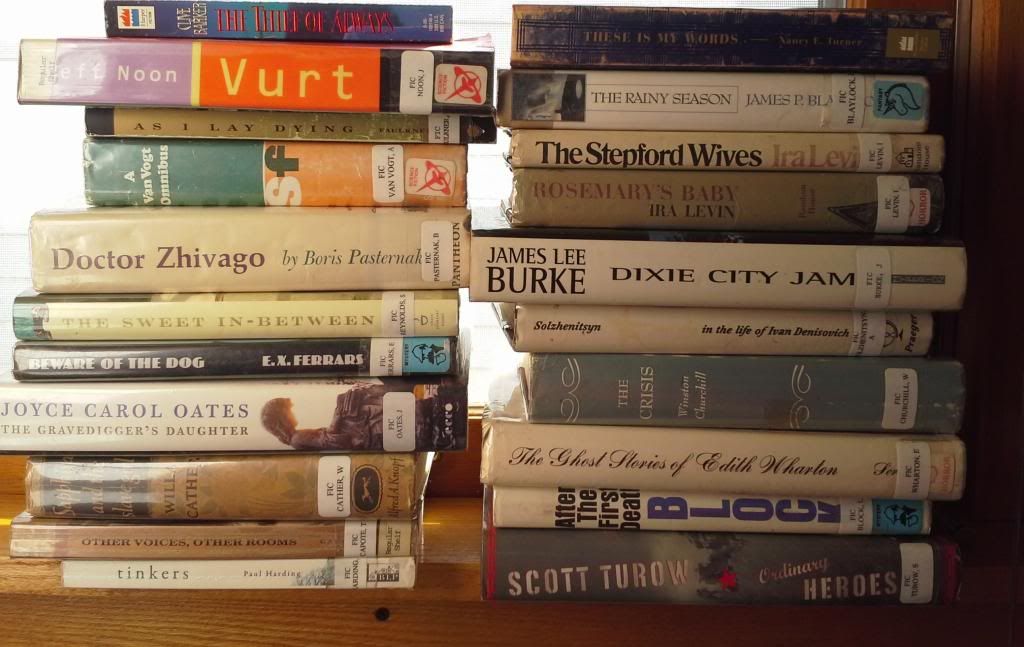 So, yesterday, after breakfast, The Boy spotted a library sale. And then told me about it, which was his first mistake. He then had to wander around after me, bored, for not nearly as long as I would have liked, but out of consideration for him I cut it short to just an hour.
It was $3/bag day. I got all of the above books in that bag. I would have gotten more, obviously, but almost all of the paperbacks were romances or Dean Koontz, or... Ones I already owned. *cough cough*
Here's my haul:
The Thief of Always by Clive Barker
An ARC edition of Vurt by Jeff Noon (on of The Boy's favorites! Imagine that- he CAN read!)
As I Lay Dying by William Faulkner
*A Van Vogt Omnibus, containing Planets for Sale, The Beast, and The Book of Ptath
Doctor Zhivago by Boris Pasternak
The Sweet In-Between by Sheri Reynolds
Beware of the Dog by E.X. Ferrars
The Gravedigger's Daughter by Joyce Carol Oates
Sapphira and the Slave Girl by Willa Cather
Other Voices, Other Rooms by Truman Capote
Tinkers by Paul Harding
* I picked this up purely on a whim. I never heard of any of these stories, but it looked well read, and I always think that I should read more science fiction, and for about $.14, you can't beat the price. ;)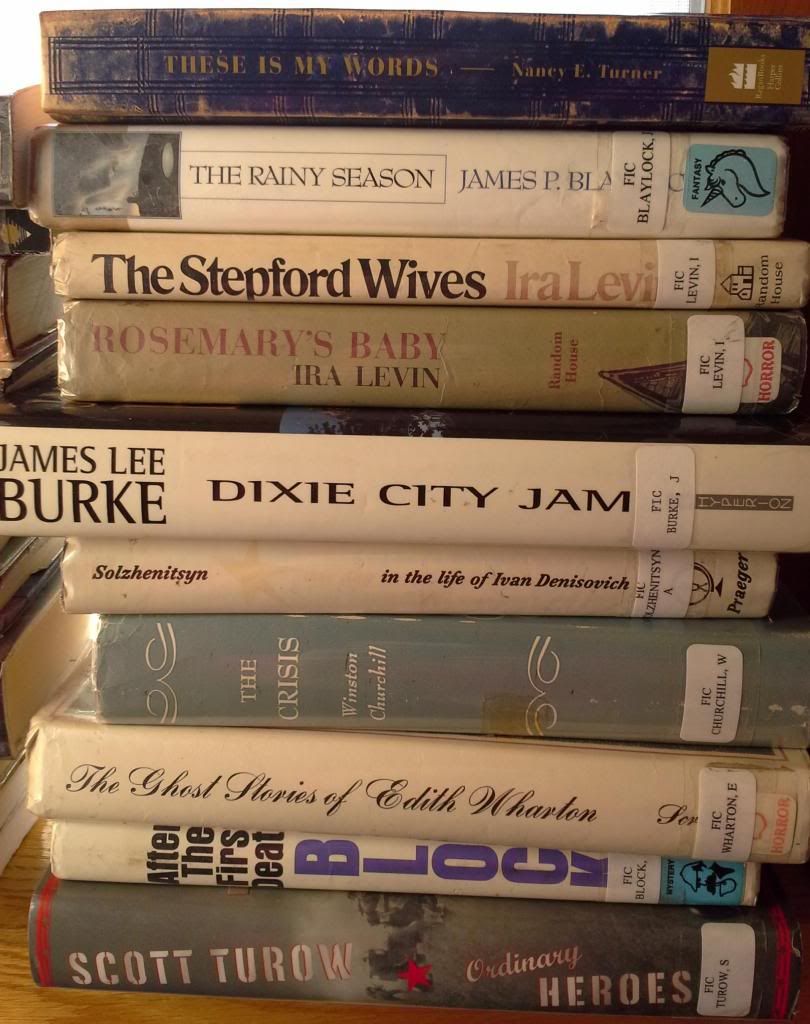 These Is My Words by Nancy E. Turner
The Rainy Season by James P. Blaylock
The Stepford Wives by Ira Levin
Rosemary's Baby by Ira Levin
Dixie City Jam by James Lee Burke
One Day in the Life of Ivan Denisovich by Alexandr Solzhenitsyn
The Crisis by Winston Churchill
The Ghost Stories of Edith Wharton by Edith Wharton
After the First Death by Lawrence Block
Ordinary Heroes by Scott Turow
Obviously, a lot of these books are ones that I wouldn't have likely ever read, or even heard of, otherwise. But getting 21 books for the price of a half off mass market paperback is a good incentive!
After leaving the sale, we ran a few more errands, and stopped at one of my favorite discount stores, where I bought... yeah, more books. (I SAID I don't have a problem!)
I picked up The Illustrated Sherlock Holmes, which contains 37 short stories and a full novel. I also got The Haunting of Granite Falls by Eva Ibbotson, because a friend loves her, and I've never read anything of hers. And finally, an apparent steampunk book about Jack the Ripper called "Ripper" by Stefan Petrucha... because why not?
... Now I just have to find a way to fit them onto my shelves. O_o