In My Mailbox is hosted by Kristi @
The Story Siren
.
Wow... It's been about a month since my last IMM post, and I've missed sharing my book acquisitions with everyone. So without further delay, here are my goodies! :D
You might remember late last year, the awesome people over at The Broke and the Bookish blog did a Secret Santa swap. This is what I got:
The Maze Runner by James Dashner
A whole buncha bookmarks - some signed! Squee!
Here's what I received from a Secret Santa swap we did in one of my Goodreads Groups. I'm excited for both of these books:
Handling The Undead by John Ajvide Lindqvist
Halfway To The Grave by Jeaniene Frost
Crusade (Crusade #1) by Nancy Holder and Debbie Viguie
(Received ARC from
Star Book Tours
)
I actually received this one a while ago from my boss, but I plan on reading it soon and figured that I'd mention it. I hope it's awesome. :)
Little Bee by Chris Cleave.
Before I move on to the rest of my IMM post, I just thought I would share a little bit of the difficulties I face in getting decent pictures to share with you all. Bloopers, if you will. Uncooperative extras?
I'm talking about stuff like this: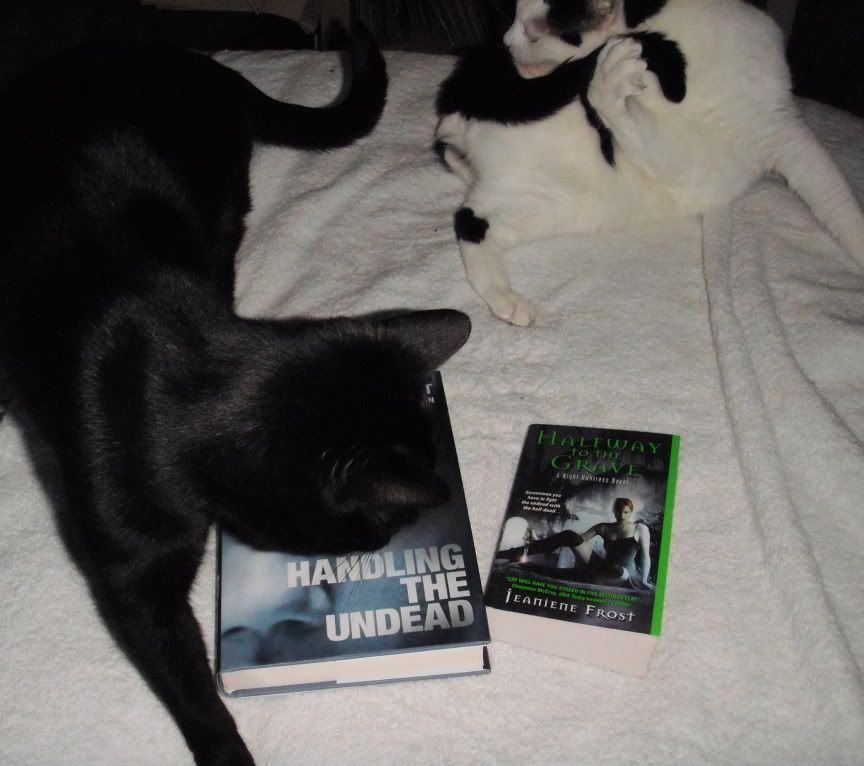 And this:
But it's worth it... Silly cats! :P
OK, let's get back to business!
You all know that I got a Nook for Christmas (well, pre-Christmas), right?... Well... I have a problem. By problem, I mean addiction. I've had my Nook for one month and three days, and I've already acquired 98 ebooks for it. Some are duplicates of what I already own in deadtree format, but lots are new. But... many were free. FREEEE! *dances around in free ebook bliss*
Sorry 'bout that. I'll wait while you all go wash out your eyes.
Here's the list of my new ebooks (in no particular order):
Way of Shadows by Brent Weeks
Shadow's Edge by Brent Weeks
Beyond the Shadows by Brent Weeks
A Game of Thrones by George R R Martin
A Clash of Kings by GRRM
A Storm of Swords by GRRM
A Feast for Crows by GRRM
The Blade Itself by Joe Abercrombie
Before They Are Hanged by Joe Abercrombie
Last Argument of Kings by Joe Abercrombie
The Killer Angels by Michael Shaara
Fragile Things by Neil Gaiman
A Medicine for Melancholy by Ray Bradbury
All 11 of the Wheel of Time Series (plus short stories, etc) by Robert Jordan
Swan Song by Robert McCammon
The Lies of Locke Lamora by Scott Lynch
Red Seas Under Red Skies by Scott Lynch
Full Dark, No Stars by Stephen King (Currently Reading)
Les Miserables by Victor Hugo
Pawn of Prophecy by David Eddings
Queen of Sorcery by David Eddings
Magician's Gambit by David Eddings
Castle of Wizardry by David Eddings
Enchanter's End Game by David Eddings
The Gateway (Harbinger of Doom 1) by Glenn Thater
Reaper by Rachel Vincent
Dr. Jekyll and Mr. Hyde by Robert Louis Stevenson
A Connecticut Yankee in King Arthur's Court
DEAD(ish) by Naomi Kramer
The Demon Girl by Penelope Fletcher
10 Lost Vintage Sci-Fi Masterpieces by Various authors
Reckless by Cornelia Funke
Grimm's Fairy Tales by the Brothers Grimm
Whew! I think my keyboard is smoking. But how awesome is that?? I ♥ Nook!
Alrighty, that's what I got in my mailbox (since last time)... what did you get in yours? :)