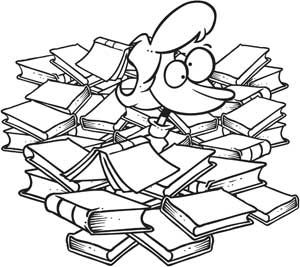 <--- This is what I feel like most days. There are just so many books out there that I want to read. It's crazy. So I'm trying to get a bit more organized about it.
I've challenged myself to read 160 books this year. That's 15 books more than I managed last year, and works out to about 3 books a week. So each week on Sunday, I'm going to try to plan for the week ahead and post my reading plans here.
I say "try" because... well, I'm a commitment-phobe. I always have noble intentions of reading such and such book at such and such time, but I never do. I cheat and go for the quickie with a book that offers a thrill. What? I'm easy. I admit it. My pride AND my shame. ;)
Anyway, here's my plan for this week in Wordle, bookcover and title formats...

The Lies of Locke Lamora (Gentleman Bastard #1) by Scott Lynch
The Inventor by Morgan Karpiel
The Poet (Jack McEvoy, #1) by Michael Connelly
The Book of Negroes (AKA Someone Knows My Name) by Lawrence Hill
Speak by Laurie Halse Anderson
What is on the agenda for your reading list this week?