In My Mailbox is hosted by Kristi at
The Story Siren
.
I don't usually do many IMM posts. But today I'm doing one, because I'm kind of excited about the books I've acquired this week.
I did two book buying splurges this weekend... one at the thrift store around the corner from my house... (Seriously... DANGER ZONE.), and one at a local bargain store that is, thankfully, across town.
Here's what I got.
Thrift store (Used books):
Robert Bloch's Psychos (A collection of horror stories)
Shadowland by Peter Straub (Sorry for the craptacular pic of that one!)
Rebecca of Sunnybrook Farm by Kate Douglas Wiggin
P.S. I Love You by Cecelia Ahern (OMG, even the first page made me cry!!)
A Wrinkle In Time by Madeleine L'Engle
Bargain Store (New Books):
Dust City by Robert Paul Wilson
Endgame by Nancy Garden
The Astonishing Adventures of Fanboy and Goth Girl by Barry Lyga
And finally...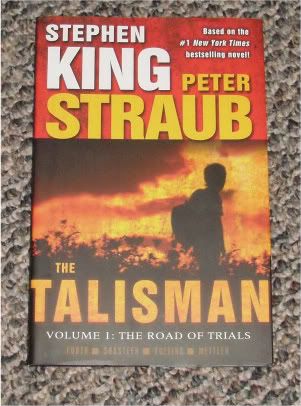 The Talisman Graphic Novel, Vol. 1: The Road of Trials
OMG. I paid $3.99 for this. It's PERFECT. ♥♥♥
Excuse me while I squee all over the place! SQUEE! :D
The Talisman is one of my all time favorite books, and I've been wanting to read this graphic novel for ages... but budgets being tight, I can't justify buying at full price. $3.99 I can manage though! O_O
All of the books in this week's IMM post cost me less than $20 combined. Super awesome haul this week.
SQUEEE!!!!