In My Mailbox is hosted by Kristi @ The Story Siren.
I don't really have anything witty (or even semi-witty) to say here, so let's just get to it, eh? Here's what I acquired this week: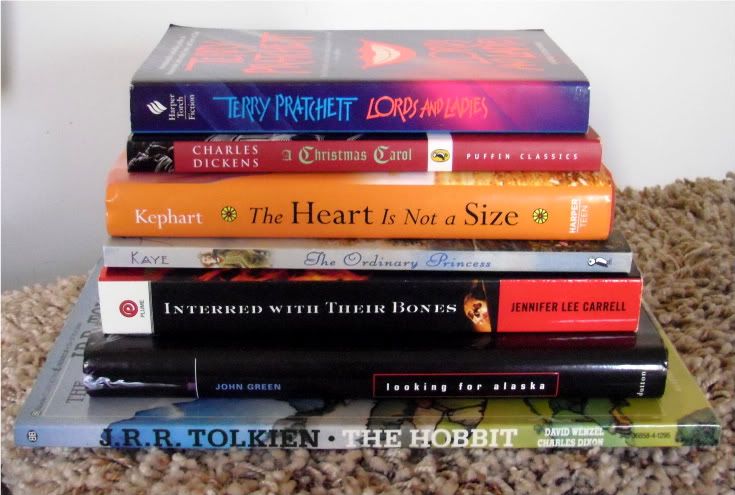 and a whole bunch of other Tolkien books (not pictured)
All of these were purchased by me, except the Tolkien books, which were given to me. I'm not sure what I'm going to do with them, honestly. A friend is moving and he gave these to me, because he knows I'm a Tolkien fan. But the thing is, I love The Hobbit and The Lord of the Rings, and even liked The Silmarillion, but I'm not such a fan of the lays and tales and lore etc. So I'll probably be donating them. (Or let me know if you're interested in them, we can work something out!) I'll need to go through them first though - some are in pretty rough shape. :(
As for what I've read, I've had a pretty OK week, I guess. I've read 6 books - the majority of that being yesterday for the Read-a-thon.
To Die For by Linda Howard
The Heart is Not a Size by Beth Kephart
The Ordinary Princess by M.M. Kaye
Zan-Gah: A Prehistoric Adventure by A.R. Shickman
UR by Stephen King
Holes by Louis Sachar
Looking for Alaska by John Green
Everything's Eventual by Stephen King
The Gunslinger by Stephen King (audio)
Hell House by Richard Matheson
Changeless by Gail Carriger
Blameless by Gail Carriger
The Stand: Captain Trips by Stephen King (graphic novel)
The Stand: American Nightmares by Stephen King (graphic novel)
...and/or whatever else catches my eye!